Applications are now closed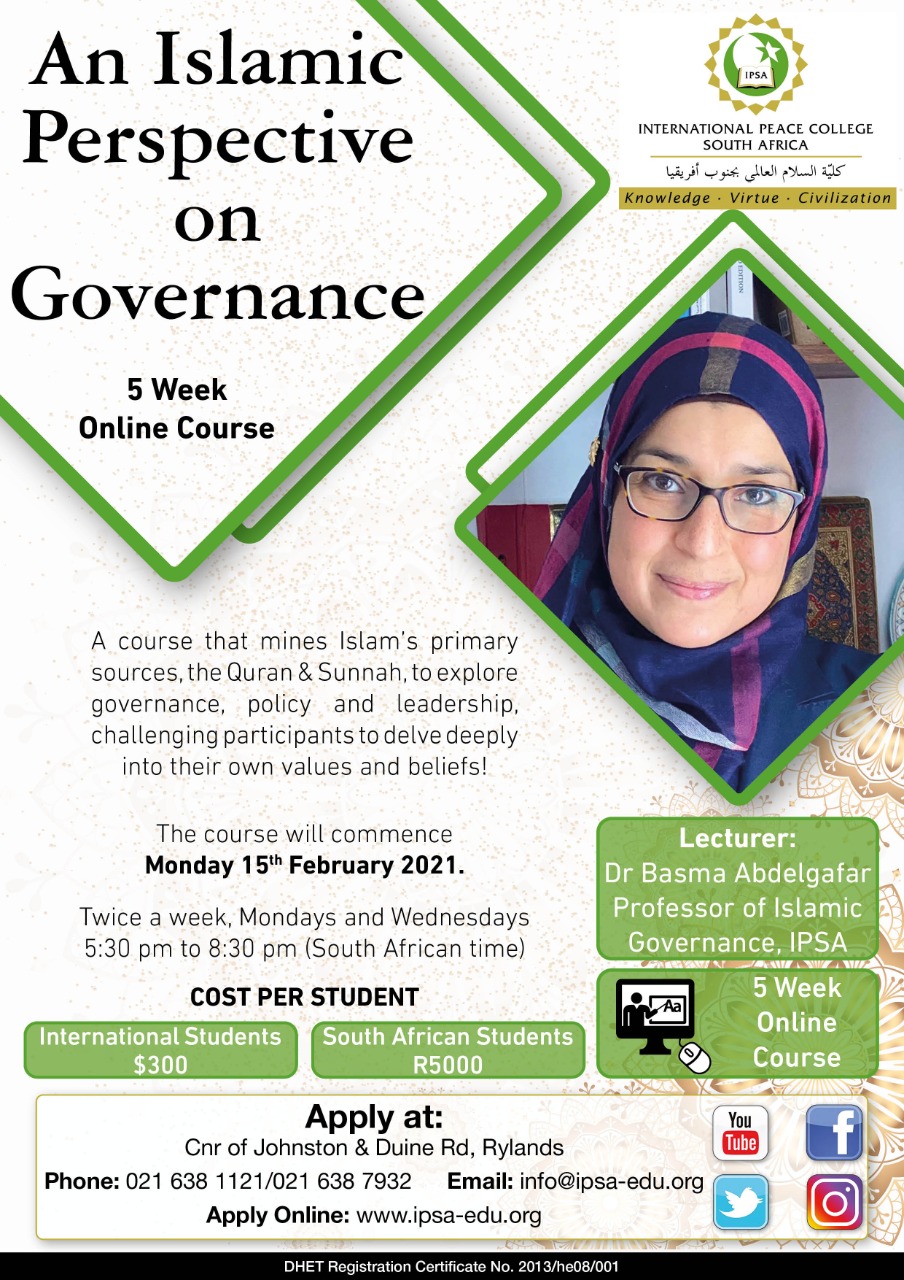 An Islamic perspective on Governance
Course Description
This part-time intensive online course examines governance and policy from an Islamic perspective. In particular, the four pillars of public policy in Islam – tawhid (unification), maqasid (objectives of the shariah), shura (collective decision-making) and islah (rectification) – and how they are intended to guide public affairs at multiple levels.
Course Aim
Its aim is to improve the performance of individuals engaged in public life by helping to unlock the wealth of guidance available in Islam's primary sources, Quran and Sunnah, as well as relevant scholarship through an integrative, comprehensive and dynamic methodology. 
Course Requirements
Participants are expected to be engaged by watching the class lectures which will be uploaded online, completing the assigned readings, answering related questions and participating in class discussions.
Who Should Attend?
Students of governance and policy
Policy makers, takers and analysts
Decision makers in government, NGOs and business
Truth seekers
Certificates will be issued upon completing the course.
Biography of Dr. Basma Abdelgafar
Dr. Basma Abdelgafar is the Vice President & Director of Policy at the Maqasid Institute (
https://maqasid.org/
). She is a Professor of Public Policy, consults and provides training internationally on policy, governance and Muslim affairs.
Prof. Abdelgafar has worked in the Canadian federal government, academia and the third sector. She has contributed to the development of graduate studies in public policy at the American University in Cairo, Qatar Foundation and the International Peace College of South Africa. She was founding head of the Public Policy in Islam Masters Program at the Qatar Faculty of Islamic Studies, Hamad Bin Khalifa University. She has a keen interest in research and teaching in public policy and governance in Islam as well as in Muslim history, thought, institutions and communities.
She obtained her Ph.D. in Public Policy from Carleton University, Ottawa, in 2003. Her book publications include: Public Policy Beyond Traditional Jurisprudence (London: IIIT), Thriving in a Plural World (Singapore: MUIS), M.A. Draz's Morality in the Quran and the Greater Good of Humanity (Wales: Claritas), and The Illusive Tradeoff (Toronto: University of Toronto Press). Prof. Basma is currently authoring a book on the Quranic Theory of Invention and Innovation.